Born in Taipei, Taiwan, Liang-Jung Chen (she/her) is a UK-based performance artist combining dance with interactive objects. Deeply interested in tension embedded in everyday scenarios, her practice explores the subtle sense of uncertainty and insecurity based on her own experience as a young migrant artist. She is currently investigating the sense of fear shared among underrepresented demographics caused by political unrest.

With a background in industrial design, she is the founder of

ii (initial initiatives)

, an unorthodox creative practice that proactively engages itself in projects of positive impact based on intensive research, strategic approach, radical experimentation and more.
● Live Performances
2023 Wax and Wane at Xenia Creative Retreat, Hampshire
2022 The Spout and its Churn Rate at Terranova, Barcelona
2022 The Spout and its Churn Rate at Tangent Projects, Barcelona
● Solo Shows
2023 Wax and Wane, Xenia Creative Retreat, Hampshire
2022 The Spout and its Churn Rate at Tangent Projects, Barcelona
2021 The Egg Rack Made a Disclaimer 2.0 at NOW Space, Taipei
2020 The Egg Rack Made a Disclaimer 1.0 at Error22, Tainan


● Group Shows
2023 Aesthetica Art Prize Show, York Art Gallery,
Yorkshire (Forthcoming)
2021 Local Ware, OROS, Marseille
2021 Bridge hole, Offsite Arts, Taipei
2020 1 Two 1 Two at National Gallery of Victoria, Melbourne
2020 The Misused 3.0 at Coal Drops Yard, London
2020 The Misused 2.0 at Taiwan Design Research Institute, Taipei
2019 The Misused 2.0 at Piet Hein Eek, Eindhoven
2018 The Misused 1.0 at Caoji Gallery, Tainan

● Awards
2023 Longlister - Aesthetica Art Prize
2021 Winner, Dezeen Awards
2021 Longlister, Dezeen Awards
2020 Nominee, INDEX Design Awards

● Residencies
2023 Xenia Creative Retreat, Hampshire
2022 Tangent Projects, Barcelona
2021 Domaine de Boisbuchet, Lessac
2020 Makerversity, London

● Publications
2023 Liang-Jung Chen Works, by O.OO (Forthcoming)
2023 Hardware Archive, by Onomatopee (Forthcoming)
2022 Loop the Loop, by Nieves
2022 Plastic: Remaking our World, by Vitra Design Museum
2021 The Egg Rack Catalogue, Self-published
2020 Maker's Manual, by STORE Projects




● Features
● The Spout and its Churn Rate (2022)


The spout and its churn rate (2022) is a performance piece based on a set of six milk churns of the same volume. Through the intensive act of repetitively pouring 1.5 litre of milk from one churn to another, the artist visualises the inevitable loss during the ongoing process of transferal.

The realisation of the equal volume of each churn, despite their variety of form, offers a tantalising satisfaction, yet ultimately this hoped-for notion that the milk will perfectly flow from each to the next cannot be realised. Meanwhile the subtle differences in each spout causes the milk to pour in unpredictable manners.

Informed by an economic term churn rate - the rate at which customers stop doing business with an entity, the title sheds light on involuntary disengagement of all sorts in everyday scenarios, revealing the poignancy of sacrificing a small part of us in order to carry on living.





● The Egg Rack Made a Disclaimer (2020)


The Egg Rack Made a Disclaimer (2020) explores the intangible tension and boundaries between people of different identities in a diversified society today. It is a series of precarious egg holders that invite the visitors of the show to interact with them on their own accounts. It challenges personal boundaries while examining the accountability structure between the creator, the object, and the user.


During the show in the gallery, a sheet of paper was posted at the entrance: "Disclaimer: Welcome to the exhibition of egg racks. Upon entering the space, you are invited to interact with the egg racks at your own risk. The designer has made every attempt to ensure the security of the eggs exhibited in the space. However, each visitor will be held accountable for breaking the eggs and will be responsible for all accidents and damages incurred as a consequence."

A rather passive aggressive self-disclosure. A series of egg racks that make it clear that they are hypersensitive. They replicate the awkward moments in social events. They offer a glimpse into tragic scenarios. They solicit tenderness. They predict broken hearts.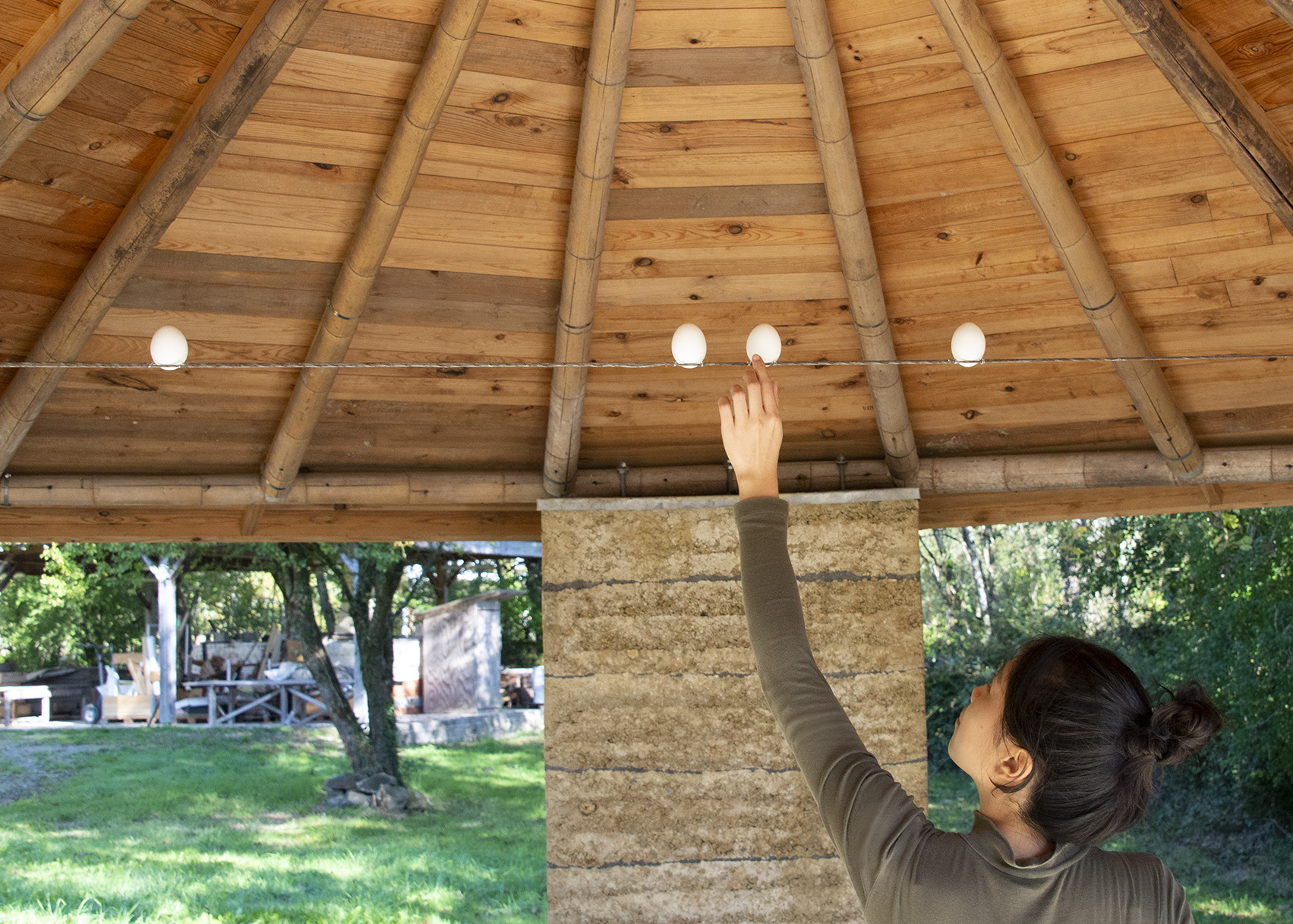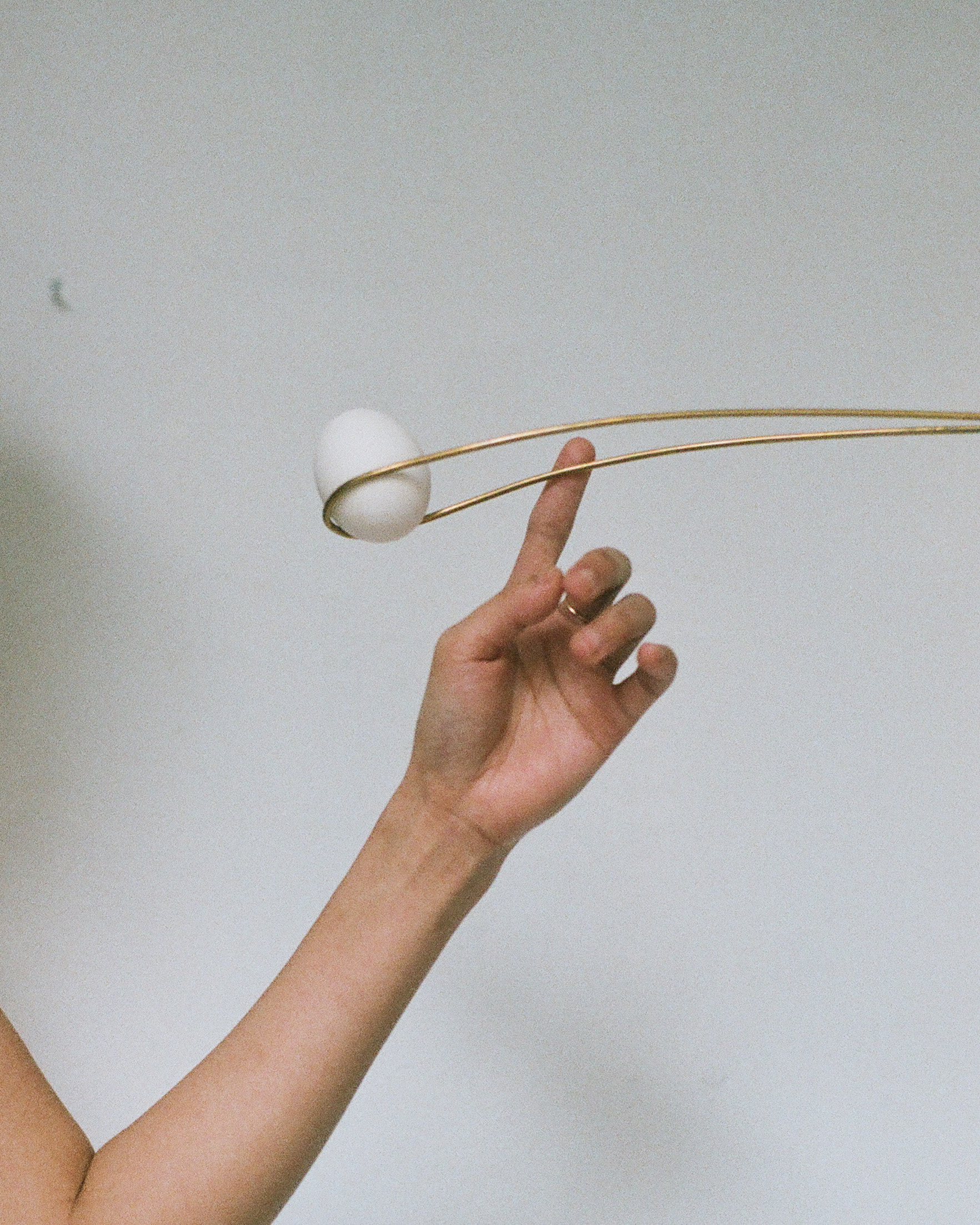 ● The Misused Sculpture in Lockdown (2020)
● Features
The Guardian, 2020
ICON Magazine, 2020
Metal Magazine, 2022